Preliminary Environmental Impact Report – 2010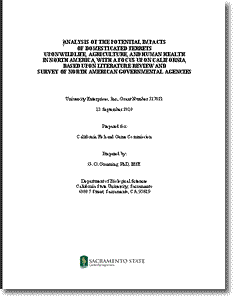 ANALYSIS OF THE POTENTIAL IMPACTS OF DOMESTICATED FERRETS UPON WILDLIFE, AGRICULTURE, AND HUMAN HEALTH IN NORTH AMERICA, WITH A FOCUS UPON CALIFORNIA, BASED UPON LITERATURE REVIEW AND SURVEY OF NORTH AMERICAN GOVERNMENTAL AGENCIES
In 2000 the California Fish and Game rejected any further discussion of ferret legalization without ferret proponents first agreeing to fund an Environmental Impact Report. Ten years later we told the Commission we were ready to do so. Our consultants worked with the Commission and Department and advised us to do this report. It was presented and never acknowledged. The Commission did reject the study as incomplete but a public records request act demonstrated that they never read it.
But that wasn't enough. Before they would accept the report we were told to prepare a CEQA checklist, which we did and they also ignored.
Update – in 2016 the new Commission did accept and review this report,  They rejected our request to have ferrets removed from the prohibited species list for two reasons.  You can read staff summary here.