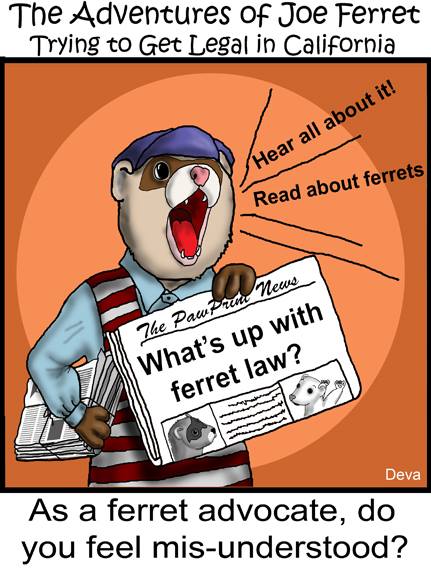 To Donate $5 – please use this link
If you had a great week, won the lottery, got a raise and feel like donating a little extra – enter your own amount here.
If you would rather donate with your credit card, please fill out this form and mail or fax it back to us.
Thank you for supporting us.  Five Dollar Ferret Fridays have allowed us to grow; to put ads on Facebook, order signs and literature, pay freelancers for our graphic and web design.
Now that the ballot petitioning is over we need new literature designed and printed and we intend to keep growing our numbers through more advertising.
We are hoping we have made progress with Assemblyman Marc Levine, Chair of the Water, Parks and Wildlife Committee.  But if not, we'll be out there again agitating for Ferret Freedom!
Please Note – a few people have said they couldn't get PayPal to work.  Odd – but you can always mail a check (how old fashioned!)
LegalizeFerrets.org
Five Dollar Ferret Friday
PO Box 1480
La Mesa, CA 91944