Uncategorized
LegalizeFerrets.org
PO Box 1480
La Mesa, CA 91944
619-303-0645
April 19, 2017
Chair, California Waterfowl Association
L. Ryan Broddrick
President, California Waterfowl Association
John Carlson
California Waterfowl Association
1346 Blue Oaks Blvd,
Roseville, CA 95678
Dear Mr. Broddrick and Mr Carlson,
The California Waterfowl Association has always been on hand to oppose us when we bring ferret legalization efforts in front of the California Fish and Game Commission.
While having concerns are justified, speaking out against our efforts to legalize an admittedly domestic pet of our choice without any documentation to support your views is not.
You are both former high ranking officials with California Fish and Game.  California Fish and Game used to be hostile or indifferent to our efforts.
From their official records:
August 3, 2011, Commission meeting – Public Forum testimony – Commissioners indicated they were not interested in considering this matter; because other matters of higher importance currently exist.
The new administration has responded to our requests and has treated us like we too, matter.
We hope they will accept our petition at their Wednesday meeting in Van Nuys and once again start issuing permits for ferrets.
You obviously understand the importance of defending your right to hunt and fish, why do you actively work to oppose our right to own a domestic animal; legal in 48 states without one feral ferret ever being documented in the United States?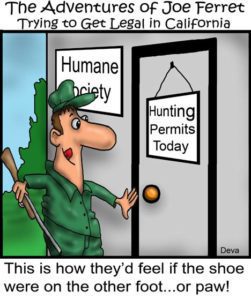 Those animals you refer to in New Zealand were repeatedly introduced there and crossed with their wild kin; European polecats.  Those are not the animals we want as pets.  Domestic ferrets are legal and not a pest in England, I don't know where Mark got his information.  Feral polecat/ferret hybrids are a pest on the Shetland Islands, but California is not an island ecosystem.
Enclosed please find the signatures of 946 people asking you to reevaluate your opposition to ferret legalization.
Please either document your concerns or stop working against our efforts to change a bad law that has no basis in science, liberty or even fairness.
Sincerely,
Pat Wright
LegalizeFerrets.org
Read More